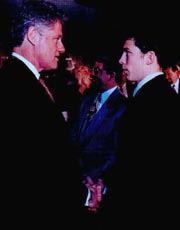 Eric Malone burst onto the International IJSBA and personal watercraft World Freestyle Competition in 1995 by clinching the Freestyle World Championship in the IJSBA Amateur Division. This impressive #1 rank began the Cyclone legacy in which Eric dedicated his creative and athletic abilities towards the creation of new technical tricks, equipment designs and modifications that led to his domination in the 'Professional PWC Freestyle' category.
His story begins earlier than this. Eric was originally a very competitive stand-up watercraft racer. His talent was divided between competing in the stand-up watercraft racing division and the high profile, high energy Freestyle Program. With his early success, the demands of an entertaining and competitive routine for the Freestyle PWC division became evident. Soon Eric focused full-time on investing the necessary dedication required towards maintaining his position as the 'world's best' Freestyle rider!
Eric has pioneered the trademark 'NO HANDER' barrel roll, patented 'CYCLONE' and 'SINUS SOAKER,' and many other innovative tricks that have become the staple of freestyle PWC routines all over the world. These dynamic tricks have allowed a new generation of followers to perfect and advance their skill level. These routines can be viewed on ESPN, local televised affiliates and video entertainment releases--such as Eric's own freestyle PWC production: 'On Edge.'
Eric's older sister, Meredith was also an accomplished regional IJSBA Champion as well. Their parents, Gene and Bonnie Malone supported their children's PWC competitive history through early sponsorship with their Keystone Yamaha dealership located in Altoona, Pennsylvania. The Malone family is a classical success story, with exceptional support, not only of their own team members but the personal watercraft racing community at large which they support enthusiastically. Eric's parents are often seen at National and World PWC tour events cheering on the competitors and giving these events total commitment, bringing a very positive element to the venues.
World and National Titles
2009 Accomplishments:
IJSBA National Championship
APBA National Championship.
2006 Accomplishments:
World Finals 1st place
APBA Nationals 1st place
2005 Accomplishments:
World Finals 1st place
World Freestyle Watercraft Alliance
2004 Accomplishments:
World Finals 1st place
World Freestyle Watercraft Alliance
2003 Accomplishments:
National Tour 1st place
World Finals 2nd place
2002 Accomplishments:
World Finals 1st place
Freeride Tour 1st place
National Tour 2nd place
2001 Accomplishments:
National Tour 1st place
World Finals 4th place
2000 Accomplishments:
World Finals 1st place
National Tour 1st place
1999 Accomplishments:
World Finals 1st place
National Tour 1st place
1998 Accomplishments:
National Tour 1st place tie
World Finals 5th place
1997 Accomplishments:
World Finals 1st Place
Jet Jam 1st Place
IJSBA Big Red Jet Sports Tour 2nd place
1996 Accomplishments:
IJSBA National Pro Freestyle 5th place
World Finals Pro Freestyle 5th Overall
IJSBA National Tour Pro Ski 6th Place
1995 Accomplishments:
World Amateur Freestyle Champion
1994 Accomplishments:
National Amateur Freestyle Champion